WARNING! Spoiler alert! This is a rough BDSM scene between consenting adults.
A LITTLE R & R - A Lara Croft Story - Doppie's Revenge
[center:1aqowqxv]Part 7[/center:1aqowqxv]
Lara walked into the locker room and glanced at the clock. To her horror it showed 6:57 PM. "Bloody Hell!" she thought to herself, "I'm going to be late! Doppie is going to be even madder! She's going to kill me!" She punched the intercom for Winston. When he answered she said, "My meeting ran long. I have to shower and get cleaned up. Please let Doppie know I'm sorry and that I'm running late but will be there as quickly as possible." "I will Lara," he replied, "I'll send Agnetha to clean up there." She ran across the locker room to her private elevator. As soon as the doors opened into her rooms she went to the food and beverage table. Lara poured a shot of Macallan 12 Scotch then drank it slowly as she wolfed down some food. Lara poured a second shot and slammed it down before heading to her bathroom. Lara thoroughly washed and cleansed her body of all traces of cum. While her engorged labia and the discoloration of her tender anus were damning enough proof of her recent sexual exploits she didn't need Doppie to freak out about that too. She finshed freshening up and somewhat fortified by the scotch she opened the door to come face to face with Doppie. The dark yellow of Doppie's eyes conveyed her intense wrath. Lara's false bravado was stripped away in an instant. "
Submit
," Doppie hissed with scarcely contained fury. Lara opened her mouth to speak but Doppie covered Lara's mouth and screamed the control word at her again, "
SUBMIT!".
In resignation Lara closed her mouth and nodded her head signifying her acceptance of Doppie's control word. They only had two. "Obey" was for play and "Submit" was for punishment. Doppie wheeled and strode across the room to their bed, her spike heels clickly loudly on the floor. Lara thought she looked gorgeous in her custom-made black ensemble which included a choker, opera length arm sleeves, and a crotchless body corset with straps around her bare breasts. "Come!" Doppie commanded. Lara meekly moved to the side of the bed and stood feet slightly apart and arms at her sides. Doppie slipped her hand between Lara's legs, touched her swollen labia, then slid her fingers further to probe her anus. Lara flinched but did not dare resist. Doppie clenched her jaw, seething with rage, and withdrew her hand. On the bed was a ball gag, padded wrist and ankle restraints, slave collar, and an orange and black riding crop. Doppie picked up the ball gag and Lara obediently opened her mouth. She pushed the ball into Lara's mouth, moved behind her, and expertly tightened the strap. Lara stood submissively as Doppie fitted the cuffs and collar and adjusted for tightness. Doppie connected the wrist cuffs together, picked up the crop, and motioned Lara towards the elevator. Behind her Doppie's eyes changed from dark yellow to bright fiery orange. [center:1aqowqxv]
[/center:1aqowqxv] Lara took three steps before the stroke hit her across her buttocks. It wasn't a particularly hard hit but enough to leave a red streak. Shocked Lara wheeled around and Doppie swung again. The keeper at the end of the crop hit Lara's left nipple perfectly - a tap that stung fiercely. Fire orange eyes glared at her and Lara knew Doppie's sadistic persona had already manifested. Doppie drew the crop back and her gaze shifted to Lara's right breast. Lara understood what she wanted and obediently pushed her right breast forward. Doppie let Lara's nipple harden for several seconds before flicking the proffered tip. Lara let out a muffled cry as her nipple throbbed. "I know our compact permits you to be with a man from time to time. But you didn't just fuck one Lara. You didn't just fuck two did you? No you fucked three men!" Doppie ranted on. "You've been
extraordinarily
bad and per our agreement you will be
punished accordingly
. Now stand still and keep your eyes closed," Doppie commanded and stepped back. Lara heard the crop cut through the air just before the shaft struck her right breast below the areola. She writhed and moaned in pain. The second blow hit her left breast just below the nipple too. Lara whimpered and squirmed but the pain was exquisitely pleasurable and she was getting wet. "Stand still," Doppie whispered. Doppie aimed carefully and swung overhand and down. The blow was precisely struck and the tip of the keeper snapped the top of Lara's mons. In agony Lara hopped and danced, whimpering and moaning, until the sting began to subside. Doppie motioned Lara on towards the elevator and laid another red streak across Lara's pale cheeks. Lara moaned but did not turn around. When they got in the elevator Doppie pushed Lara to bend her over. Lara braced herself against the side wall in obedience. Doppie punched in a unique code and said "Saferoom." The voice recognition software activated and the elevator began to descend. Lara whimpered and moaned as Doppie put another stripe on her ass, watched it bloom, then added another. When the elevator reached bottom there were several red streaks on Lara's buttocks and both girls were wet. During the rebuilding of Croft Manor a saferoom had been included under each of the four wings connected by tunnels that could be sealed off if any were compromised. After Lara and Doppie returned from The Clinic this one had been immediately repurposed, furnished, and equipped for S&M. Several spotlights focused on the suspension area and Doppie led Lara there before walking over to the control console. A huge monitor on the wall in front of Lara came on and images of her from different angles appeared on the screen. There was a soft hum and a black trapese bar lowered stopping right above Lara. Doppie separated her wrist cuffs, placed each of Lara's hands on an end of the bar for her to hold onto, and then chained Lara's wrists to the bar. She went back to the console and raised the bar until Lara was lifted off the floor. Doppie pulled an extendable spreader from a nearby drawer and went back to where Lara hung, attached the spreader to her ankle restraints, and extended the bar to it's full 48" length. Pushing small emblems on the floor behind Lara revealed hidden hooks that Doppie attached to chains at each end of the spreader anchoring it. At the console Doppie raised the bar until Lara's body was stretched taut. From another drawer she took out a flexible rod of progessively larger anal beads, lubed it, and approached Lara. Lara was dripping wet and a slender string was oozing towards the floor. Doppie inserted the rod past the first bead and sucked the wet strand into her mouth. Her tongue lanced Lara's clit as her mouth closed over Lara's pussy. It took just a few moments before Lara came, a gushing flow that Doppie lapped up greedily. Just as Lara's orgasm peaked Doppie inserted the next ball and tongued Lara's clit again. Lara's felt a sensual twinge as her sphincter opened up then closed behind the ball and she kept cumming. Doppie continued sucking up the juices draining from Lara's pussy and licked Lara's clit each time she'd insert another ball, until the rod was hilted to the ring. [center:1aqowqxv]
[/center:1aqowqxv] [center:1aqowqxv]
Part 8
[/center:1aqowqxv] Doppie left Lara still spasming, picked up the crop from the console, and menacingly swished it at Lara as she walked over to a cabinet on the other side of the room stopping briefly to place the crop on a side table. Doppie opened the large bottom drawer underneath and pulled out her custom strapon harness. She pulled out the top drawer revealing a large selection of dildos laid out by increasing size and diameter and a small box with snaplock pins. Doppie took a pin and pushed the shaft facing inwards through a slot in the bottom of the center harness strap until the flathead was flush. She placed a second pin behind the first also facing inwards. Doppiie selected a dildo 7 inches long and 2 inches in diameter, simply coded 7.0x2.0, snapped it onto the first pin, and gave it a quarter turn to lock it in place. Next she took a 6.0x1.5 dildo out of the drawer and snaplocked the second phallus behind the first and lubed it up well before coating her anus. Doppie spread her legs apart and slipped the smaller dildo past her sphincter before inserting the 7" toy into her pussy. Doppie slowly pushed both all the way in, relishing the double penetration, and buckled her harness together. Doppie opened up the cabinet door to reveal her assortment of whips, floggers, paddles, and other devices. Custom-made from the finest materials they were fire orange and black with left-handed grips like the crop. Doppie picked out the beginner flogger, a light instrument with short suede straps, usually the type of whip used to tease and administer a first blush on their guests. Doppie normally used a flogger or martinet with longer, heavier falls on Lara to acheive a brighter pink quicker. Lara was now more perplexed than ever at what Doppie was preparing for. Then Doppie moved to the adjacent cabinet and opened it revealing Lara's matching set. Crafted in black and pink, with righthanded grips, it had every item Doppie's did except one. Doppie picked the beginner flogger from Lara's set and hefted it in her right hand then approached her helpless captive. [center:1aqowqxv]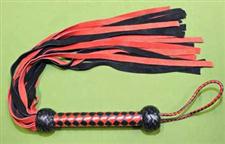 [/center:1aqowqxv] Doppie saw Lara's questioning glance at the floggers and Lara's eyes widened in dismay when Doppie answered her unspoken query, "Lara this is going to be an
extreme
punishment session although for the way you've made me feel I could rationalize giving you a
maximum
session. These are just the beginning as I am going to punish you thoroughly and you'll need to be totally prepped." Lara had not endured an extreme or maximum session since The Clinic and she had only expected a severe session like she had been given in the past. Lara whined in protest. "You still don't understand what you've done to me," Doppie fumed, "This time you've hurt me the worst
ever
! You were gone for a month which means we haven't been together in a month. You should have come to me
first
! Yet you made me wait while you immediately had sex with three men for hours.
Three!
And when you do finally come to me not only are you late but you are swollen and sore down there because of them. So do you understand now why you are going to be punished and accept that what's coming is fair... even
merciful
?" Lara realized, that while well-intended, putting her "meeting" first so she could give Doppie her full attention had wounded Doppie terribly and that injustice explained the magnitude of Doppie's justifiable rage. Lara nodded her head affimatively in abject acceptance. "Good. Well you're all mine now. I'm going to do the front of your body before I move you to your 'Horse' for your ride," Doppie pronounced. She touched the knob of her flogger to Lara's wet pussy before sliding it back along her swollen labia to push against the anal rod making Lara flinch, "I know you enjoy pain and most of this session will be pleasurable for you. But I'm going to give you a lot of pain and want you to remember later that you came to me already like this." Doppie stepped back and, with a left hand/right hand rhythm, started drumming Lara slowly and softly. Warm pink patches began to appear on the front of Lara's legs and torso. Lara began moaning softly and wetness trickled down her leg to her knee as she built towards an orgasm. For Doppie the gentle shifting of the dildos inside her as she swung, the sounds of Lara moaning, the slaps of the floggers, and the blushes on Lara's body, were rapidly stimulating her to her own orgasm. She continued flogging Lara's body from her knees to her shoulders until she was entirely pink. Sensing Lara was as close to coming as she was Doppie backhanded each of Lara's breasts right across both rockhard nipples and dropped the whips. Swiftly she pulled Lara's hips toward her hungry mouth with one hand, slipped her other hand behind Lara to grab the ring, and began orgasming. As her orgasm rocked her she tongued Lara's clit savagely and popped the first large bead through Lara's sphincter. Lara squealed as her orgasm exploded in shockwaves of pain and ecstasy. She ejaculated into Doppie's mouth and soaked her face with wetness. Doppie jerked the next bead out of Lara and continued ravaging her clit. Lara kept spasming in an extended climax as Doppie pulled each bead out of her tender anus soaking her legs and Doppie's face with more fluids. Shockingly, as soon as the rod was out, Lara felt the tip of the rod probing her anus. Doppie gently licked her clit and began popping the anal beads back into Lara's convulsing body. Lara whimpered as the anal contractions after each ball engendered sweet pangs of pain, heightening her pleasure even more, and added to the long orgasm Doppie was giving her. Doppie slurped greedily until Lara's orgasm had finished, then picked up the floggers, and sucked both of Lara's puffy nipples to painful hardness. She strode to the side table, placing the suede floggers with the crop, and then returned to her cabinet. Surveying her collection she selected another flogger with longer, thick leather straps. This whip was a heavier prep instrument and when used properly would induce a bright pink color, would sting more, and had an additional effect of imparting a hot heat to Lara's skin. Doppie took Lara's matching flogger and gripped it tightly in her right hand. [center:1aqowqxv]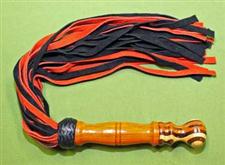 [/center:1aqowqxv] Doppie stood in front of Lara and started drumming her with the heavier whips watching each spot blush to a bright pink. Lara's moans gave way to mewls and whimpers and along with the heavier slaps the leather made Doppie kept getting more aroused. Lara loved being warmed up and the heat and sting of the leather was intensely pleasurable. Lara approached orgasm quickly but this time when Lara was ready to climax Doppie dropped the martinets on the floor and slipped behind her. Doppie slid her hand around Lara's hip, cupping her pussy, and began rubbing her clit making Lara climax immediately. In a sadistic rush she pulled the bead rod out of Lara in one long pull as Lara kept coming. Lara yelped and then yelped louder as Doppie hilted the rod back into her with one continuous agonizing thrust. Doppie retrieved the floggers and resumed whipping Lara's anterior body to a bright pink until both girls were approaching another climax. Doppie twirled both whips tattooing Lara's mons and she shrieked as the sting lit her pussy up instantly. As Lara started coming Doppie dropped the whips and knelt behind Lara. Doppie pulled on the rod until the first bead had Lara's asshole wide open and held it there with her other hand for a slow count of five. Lara's sphinchter futilely pushed at the ball then slowly closed around the shaft when Doppie pulled the bead out for another five-count delay. Doppie pulled the next ball into position and Lara's whimpering and writhing were enough to push Doppie to her own climax. After a short pause she managed to resume the five count treatment as each ball was stopped in Lara's anus and for her sphincter to collapse around the shaft after each withdrawal. Lara's pussy throbbed as her orgasm went on and on fueled by the heat from her whipping and the sadistic torment of her anus. When the rod was reinserted Doppie used the same procedure until she allowed the last bead to pass on in and the rod was hilted once again. Doppie stood, picked up the floggers, and examined the bright pink color on the front of Lara's quaking body. After admininstering a few more strokes to complete the coloration Doppie set the floggers down with the other equipment. For the upcoming punishments Doppie now needed to make changes to Lara's position and equipment. Doppie knelt down, released Lara's ankles from the spreader, and connected the ankle cuffs to each other before anchoring them to the floor. She moved to the console and raised Lara higher, stretching her body as tautly as possible, then returned to her cabinet. From the bottom drawer Doppie got the blindfold harness and returned to Lara. Deprived of sight Lara would not be able to anticipate Doppie's blows and risk unintended injury by tensing up or flinching away during the harsher punishments. In addition the blindfold would enhance Lara's remaining senses and reinforce her submissive role. She placed a finger over Lara's mouth for silence and removed the ball gag letting Lara briefly flex her jaw. Doppie pulled Lara's head down and kissed her fiercely before thrusting the mask's ball into her mouth. Doppie slipped the chin strap on first then covered Lara's eyes with the blindfold. Expertly she pulled the top and side straps into place and then adjusted and tightened the whole apparatus. [center:1aqowqxv]
[/center:1aqowqxv] [center:1aqowqxv]
Part 9
[/center:1aqowqxv] For the next level Doppie wanted an instrument that would really sting and darken Lara's skin to hues of red. She chose "Max", a maximum sized martinet almost four feet long with twenty-four leather cords. It was a very punishing martinet designed for use all over the body. Because of it's length it normally was a difficult whip to use and required careful practice to acquire the right touch and learn how to control it. But Doppie had quickly mastered it at The Clinic and enjoyed using it frequently. By prepping Lara properly she could swing the whip hard against parts of Lara's body and that always pushed her to exquisite sadistic orgasms. Lara also relished when "Max" kissed her skin, the pain and burning heat indulging her most masochistic urges, particularly as the final stage of a play session before a long night of sex. [center:1aqowqxv]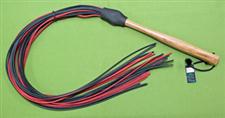 [/center:1aqowqxv] Doppie stood to Lara's left, gripped the handle tightly in her left hand, and swung. Lara heard a faint swish as the cords passed under her chin just before a long stripe of pain burst from armpit to armpit across her collarbones. It was actually a light blow perfectly administered on skin with bone right beneath but stung like crazy. Lara whimpered as Doppie watched the skin redden, shook out the falls, and swung hard. Lara howled as the whip snapped across Lara's lower abdomen sending a shockwave of fiery heat directly to Lara's churning pussy and a splash of wetness coated her inner thigh. Lara realized that Doppie was using "Max" on her and in response her nipples hardened and a warm flush brightened the pink hues on her body. The dildos inside Doppie slid and shifted as she swung a moderate blow impacting Lara's thighs right above the knee. Wetness was seeping from both girls as their arousal heightened with each blow. Lara was real close to orgasming and Doppie targeted Lara's breasts laying the cords precisely across Lara's distended nipples. Lara's initial howl of pain became a long orgasmic wail as she started to climax again. Doppie spread Lara's butt cheeks apart and gripped the anal rod. She repeated the first technique she had used and each bead popped out of Lara easily but it took her sphincter longer and longer to collapse around the shaft. Lara kept coming as the rod was reinserted the same way and Doppie smiled wickedly knowing that in addition to the painful pleasure she was giving Lara her sphincter was weakening rapidly. Doppie resumed with the martinet but soon climaxed as she painted the front of Lara's body in rich red patches. Lara succumbed to the hot caresses of "Max" and orgasmed intensely as well. Doppie plucked the rod out of Lara's asshole effortlessly in one long pull as she climaxed and easily slipped it back in with a single thrust that met no resistance from Lara's enfeebled anus. With further whipping Doppie made Lara come again and extended it on and on as she lodged each bead in her anus for an extended count followed by a second count as Lara's debilitated sphincter would collapse feebly around the shaft. With her goal accomplished Doppie didn't reinsert the rod and pridefully placed the anal rod and "Max" with the other equipment she had used. Doppie strutted over to her cabinet and her orange eyes glowed as she eyed the switches, rods, and canes, before picking out a long thin synthetic switch. She returned to Lara and grabbed both throbbing nipples making Lara moan and whimper as she pulled, tweaked, and twirled them. Lara heard Doppie step away and she grasped the bar firmly, trembling with fear and anticipation. But instead of a stroke Doppie eased the switch between her legs and gently tickled her glistening labia and clit with the tip. Lara gasped and her pussy clenched tightly causing a dribble of wetness to stream down her leg. Doppie snickered as she pulled the switch away and slowly trailed the switch over her body. Lara began groaning impatiently as Doppie continued to tantalize her by adding an occasional random tap. [center:1aqowqxv]

[/center:1aqowqxv] Without warning Doppie smacked Lara high on her left thigh and held the switch against the site for a few seconds to prolong the impression of impact. Lara cried out at the acute bite and felt a rush of heat in her vagina. Doppie watched the streak on Lara's thigh welt and turn a dark red then marked Lara's right thigh similarly, using the hit and hold technique again. The pain registered in Lara's brain mere moments before the heat shock filled her pussy and she gushed wetly. Doppie watched the weal develop and darken then moved to Lara's left side and laid down another stripe right below the collarbone. Doppie hesitated as she fantasized about where to strike next. The most punishing would be across the mons and Doppie wanted to stripe all of that area at some point so she needed to start as low as possible. The switch whistled as she laid a searing slash a half inch above Lara's slit and held it in place. The painwave flooded Lara's vagina instantly. Every nerve ending burned with raw heat and a long muffled wail signaled the onset of her orgasm. Lara's body strained against the restraints as she ejaculated down her legs and splattered the floor beneath her. Then she went limp, barely hanging on to the bar, spasming and soaking herself even more. It was too much for Doppie and as she started to come she dropped weakly to her knees. The dildos slammed deep into her and she erupted around the shaft dousing herself and forming a pool of her own on the floor. After she stopped coming Doppie staggered to her feet and resumed the whipping starting with a hard blow to Lara's breast. Aim, hit and hold, watch the color darken, and repeat. It was a slow and methodical approach as Doppie made sure each blow fell in a different spot even lifting each breast to viciously welt the undersides. Lara moaned and whimpered as each lash immediately sent searing hot jolts to every nerve ending in her pussy. She knew she was being savagely marked but couldn't hold back her onrushing climax. When Lara was about to orgasm Doppie put a new dark red welt across her mons slightly above the first and Lara wailed in pain and ecstasy when she came. Doppie wasn't having any problem coming either. The sadistic stimulation she derived from every swing and the dildos sliding and shifting inside her with every movement pushed her towards an orgasm. She paused to let it wash over her until she could regain control and safely resume. The lashing went on, pausing only when Doppie orgasmed. Myriad crimson lines flourished on Lara's thighs, abdomen, chest, and breasts while droplets of perspiration beaded on her heated, glistening skin. Whenever Lara was about to come Doppie would add another line on Lara's mons, right above the last, enhancing her ensuing orgasm. Doppie was very thorough and didn't relent until the dark scarlet streaks covered Lara's glowing red skin from her shoulders to her knees. Puffy burgundy ridges overlaid the deep red of her breasts and mons where Doppie had been especially cruel. Doppie set the switch down, unhooked Lara's legs from the floor, and disconnected the ankle cuffs from each other before moving to the console and lowering Lara to a normal standing height. Disoriented, Lara staggered drunkenly and hung from the trapese bar until she could steady herself. At the console Doppie switched on the spotlights to highlight "The Horse", as it was affectionately named. The training room at The Clinic had been huge and had a multitude of apparatus spread throughout. However, the space constraints of the saferoom had required innovation to replicate the many devices they had experimented with there. The Clinic had recommended a discreet German manufacturer of power operating tables and they had designed and developed the multi-configurable table to Lara's specifications. Doppie began adjusting the table to a vertical "Y" as she prepared to move Lara onto it. Doppie unhooked Lara hands from the bar and attached them to her collar. Lara was becoming more cognitive of the rest of her body again and felt a new urgency intensifying and started writhing in response. At The Clinic her training as a submissive had not been just physical but psychological as well and even though it had occurred on many occassions Lara still felt ashamed. Passively, she spaced her legs slightly apart and began urinating, the hot liquid stinging the marks on her thighs. Doppie watched Lara urinate and suddenly felt the urge herself and dashed off to the bathroom. She returned with towels and made Lara blindly clean herself and the floor. When Lara was done she pressed a finger to Lara's mouth signaling Lara she was not to speak, then lifted the chin strap and slid the ball gag to one side. She inserted a straw from a water bottle into Lara's grateful mouth and assisted her until it was empty then replaced the gag and chin strap.